VM Series Coarse Powder Vertical Mill
Product Detail
TECHNICAL PARAMETERS
case
WORK PRINCIPLE
Polytechnic Procedure
VM series vertical mill is an energy-saving advanced grinding equipment that integrates drying, grinding, classification and conveying.
VM vertical mill has advantages of high grinding efficiency, low power consumption, large feed granularity, easy product fineness adjustment, simple equipment process, small footprint, low noise, low dust, easy operation and maintenance, low operating costs, less wear-resistant materials consumption, etc.. It can be widely used in power, metallurgy, cement, chemical, non-metallic ore and other industries, mainly for grinding of cement raw materials, clinker, power plant desulfurization limestone powder, slag powder, manganese ore, gypsum, coal, barite, calcite, bauxite, etc..
ADVANTAGE
1. High efficiency
(1) Low energy consumption, high efficiency, 40%-50% lower energy consumption than ball mill;
(2) High single machine output, can use off-peak electricity;
(3) Vertical mill technology is initiated by the country, it can improve the competitive strength of the enterprises in local area or even in the country;
2. Easy maintenance, low operation cost
(1) The rollers can be pull out from the mill by the hydraulic device, which is convenient for plate-replacement and bigger maintenance space;
(2) Left and right side of the roller shell can both be used for prolonging the working life;
(3) The mill can run without raw material on the grinding table, which erases the difficulty in starting;
(4) The roller and grinding table are made from special material for longer working life;
(5) High degree of automation: Applied Germany Siemens PLC series with automatic control system and can realized easy long-distance control and unmanned operation.
3. Low investment cost
The equipment features in a combination of crushing, drying, grinding, and conveying, simple process flow, reasonable and compact layout, space-saving (50% less than ball mill), lower foundation cost and workshop cost in the field;
4. Stable powder quality
(1) Material stay a short time in the mill, easy to control fineness and chemical component;
(2) Regular powder shape, narrow fineness range, good fluidity, extensive application;
5. Reliability
(1) Rollers with height-controlled device, which could avoid strong vibration caused by the lack of material on the table;
(2) Newly-designed roller sealing component ensures the reliable sealing without sealing the blower, which can lower the oxygen content in the mill to prevent the possibility of explosion;
6. Environmentally friendly
(1) Lower vibration and noise;
(2) The whole facility is all sealed and operates under negative pressure, no powder overflow, no-dust workshop can be realized.
(3)Vertical mill is the better equipment to lower power consumption in the mill industry, which is also what the country advocate and a must to increase the enterprise competitiveness in China powder industry.
7. High Automatic Level
(1) PLC automatic control system, remote control, easy operation and maintenance, lower labor cost.
8. Strong Drying Ability
(1) Vertical mill features in high trying ability with hot air direct contact with the material in the mill, maximal feeding moisture of 15% is workable. A separate drying machine and energy for the mill system can be both saved. The vertical mill can satisfy the materials in different humidity by adjusting the hot air temperature.
---
Previous:
VMX Super Fine Vertical Mill
---
SPECIFICATION AND TECHNICAL PARAMETER FORM OF VM VERTICAL MILL
Model
Modelo
Grinding table median diameter (mm)
Diámetro del Plato de la molienda (mm)
CapacityCapacidad(th)
Mining Slag MoistureHumedad de la escoria
Product specific surface areaSuperficie de area específica de escoria
Product MoistureHumedad del Producto terminado(%)
Power-(kw)
VM30/2S
2500
23-26
<15%
≥420m2/kg
≤1%
900
VM34/3S
2800
50-60
<15%
≥420m2/kg
≤1%
1800
VM42/4S
3400
70-83
<15%
≥420m2/kg
≤1%
2500
VM44/4S
3700
90-110
<15%
≥420m2/kg
≤1%
3350
VM50/4S
4200
110-140
<15%
≥420m2/kg
≤1%
3800
VM53/4S
4500
130-150
<15%
≥420m2/kg
≤1%
4500
VM56/4S
4800
150-180
<15%
≥420m2/kg
≤1%
5300
VM60/4S
5100
180-200
<15%
≥420m2/kg
≤1%
6150
VM65/6S
5600
200-220
<15%
≥420m2/kg
≤1%
6450/6700
Note:Raw Materials bond index<=13kWh/t.
SPECIFICATION AND TECHNICAL PARAMETER SHEET OF VM PULVERIZED VERTICAL MILL
| | | | | | | |
| --- | --- | --- | --- | --- | --- | --- |
| Modelo Model | Grinding table median diameter (mm) | Capacity(th) | Raw Material Moisture | Fineness | Powder Moisture(%) | Power(kw) |
| VM16/2M | 1250 | 8-13 | <15% | R0.08=2-12 | ≤1% | 110/132 |
| VM17/2M | 1300 | 10-15 | <15% | R0.08=2-12 | ≤1% | 160/185 |
| VM19/2M | 1500 | 14-22 | <15% | R0.08=2-12 | ≤1% | 220/250 |
| VM21/2M | 1700 | 20-28 | <15% | R0.08=2-12 | ≤1% | 315/355 |
| VM24/2M | 1900 | 26-35 | <15% | R0.08=2-12 | ≤1% | 400/450 |
| VM28/2M | 2200 | 35-45 | <15% | R0.08=2-12 | ≤1% | 450/500 |
| VM29/3M | 2400 | 45-56 | <15% | R0.08=2-12 | ≤1% | 560/630 |
| VM34/3M | 2800 | 70-90 | <15% | R0.08=2-12 | ≤1% | 900/1120 |
Remarks :Coal Fineness ≤3% when grinding anthracite ,the capacity will go down
 SPECIFICATION AND TECHNICAL PARAMETER SHEET OF VM SERIES FINE ROLLER MILL (DESNLFURIZATION OF POWER PLANTS)
 Model
Grinding table median diameter (mm)
Capacity(th)
Raw Material Moisture
Raw Meal Fineness
Power(kw)
VM16/2X
1250
6-9
<5%
325meshs(44um)
90%passed
110/132
VM17/2X
1300
9-13
<5%
185/200
VM19/2X
1500
15-20
<5%
250/280
VM21/2X
1700
24-32
<5%
355/400
VM24/2X
1900
26-35
<5%
450/500
VM29/3X
2400
36-45
<5%
560/630
VM30/3X
2500
45-58
<5%
710/800
VM34/3X
2800
56-80
<5%
1120/1250
Note:Raw Materials bond index<=13kWh/t。
Project Status
The project is set in one of the largest construction enterprise in Beiliu City. The factory majority process solid waste like granulating slag and steel slag for local mixing plant and cement factory. After investment and comparison of ball mill, vertical mill and Raymond mill in multiple grinding mill manufacturers. The equipment was put into operation in the beginning of 2015, the performance exceeded the expect of the customer.
Production Status
Material: slag
Product fineness:250 mesh D90
Capacity: 15-20t/h
The motor drives the reducer to rotate the millstone, the raw material are send into the center of the millstone from the air lock rotary feeder. Under the effect of centrifugal force, the material moves to the edge of the millstone. Material than be ground by the force of the roller and smashed under extrusion, grinding and cutting. At the same time, hot air is blew up around the millstone and bring up the ground material. The hot air will dry the floating material and blow the coarse material back to the millstone. The fine powder will be brought to the classifier, and then, the qualified fine powder will flow out the mill and be collected by dust collector, other coarse powder will be brought down to the millstone by the blade of classifier and be ground again. The circulation like this is the overall process of grinding.
VM Verticle Grinding Mill Structure
Application Range
With scientific & reasonable design and its unique advantages, VM vertical roller mills are applied widely in power, metallurgical, cement, chemical and non-metallic industry, for grinding of various materials, such as cement raw material, clinker, limestone, slag, manganese, gypsum, coal, barite, calcite etc.. The grinding field is wide and grinding type is abundant.
1. Humidity of grinding materials: from materials of 20-30% humidity(such as carbide, lignite, chalk, etc.) to materials of humidity less than 1% (such as cement clinker), wide range of materials.
2. Grindability of materials: from high grindability(such as quartz sand, steel slag, mining slag, pyrophyllite, iron ore etc.) to low grindability (such as gypsum, calcite, etc).
3. Fineness of grinding product: from 2-5mm(such as raw shale for making brich in new wall material industry, sand for construction industry, etc) Product fineness is easy to adjust and simple operation.
VM Vertical Grinding Mill Structure
VM Series Vertical Mill consist of main mill, feeder, classifier, blower, pipe system, storage hopper, electronic control system and collecting system.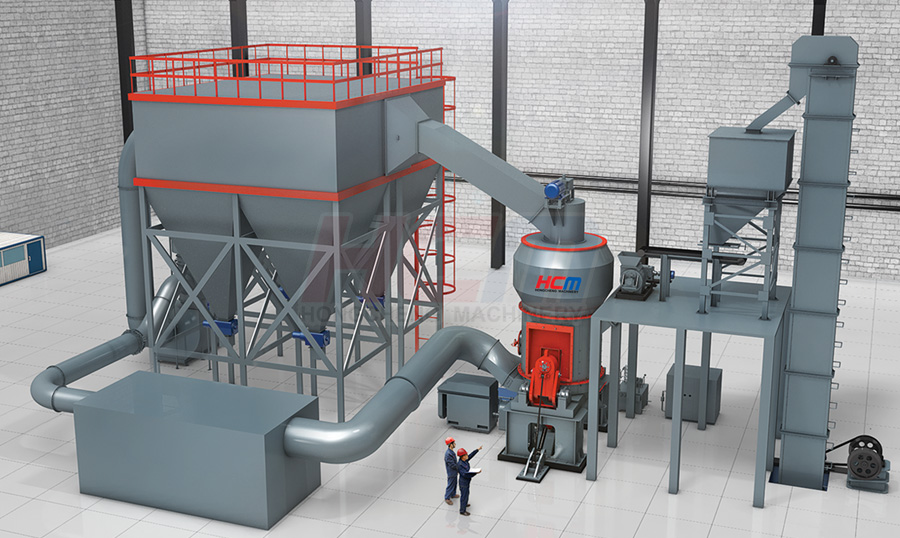 The Anatomy of  VM Vertical Grinding Mill
VM vertical Mill uses standard modules to design and fabricate pressurization device. With the increase in mill capacity, there is an increase in roller numbers (we can use 2,3 or 4 rollers, 6 rollers maximum) in proper permutation and combination to form the series of equipment of various capacities with minimum standard parts in order to meet the requirements of different materials, fineness and outputs.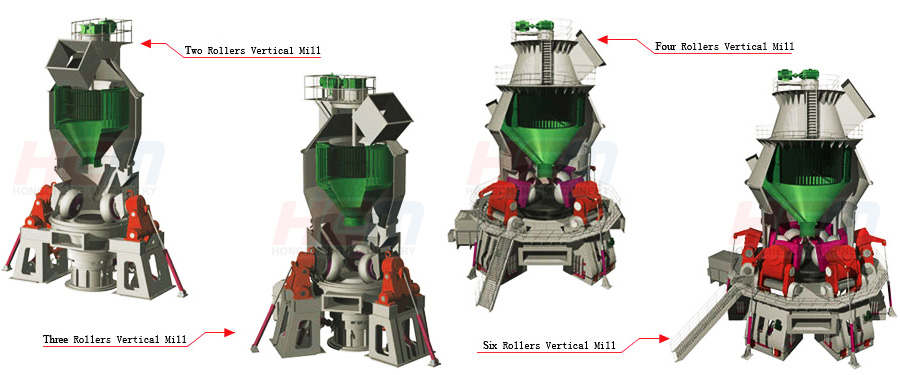 According to the layout of bag filter, there are two types of system solutions, i.e. three-fan systems, and two fan systems.
Double-stage filter system
( Normally used in grinding of cement
raw meal )A cyclone filter is used for collection of product. This arrangement can help to reduce negative working pressure and air volnme of system. Both EP and bag filter can be used as final prodnct collector.
 
Single-stage filter system 1
( Normally used in cement , metallurgical
industry for grinding coal )Explosion-proof filter is adopted. Gas is sent into filter directly from mill. This system is with less equipments and simple Configuration.
 
Single-stage filter system 2
( Normally used for grinding cement
clinker, mining slag, steel slag, non-
metallic mineral, etc. )High-density EP or bag filter can be adopted. Gas is sent into filter directly from mill.
This system is with less equipments and simple configuration.